Forevermark Tribute Diamond Ring
$1,295.00
In Stock | STYLE: 001-384-00045
Ships Today (if ordered by 4:00 pm PST)
18K Rose Gold Forevermark Diamond Wedding Ring, set with three 0.08 Ct., G-F Color, SI1 Clarity Diamonds, Forevermark Certificates #9013603, #899713, and #6021136, and 0.08 Cttw. Forevermark Petite Diamond Accents.... *Prices are subject to change based on fluctuations in metal prices and currencies
General Details:
Ships Today (if ordered by 4:00 pm PST)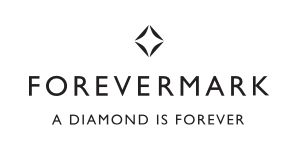 Forevermark Diamonds
Forevermark Diamonds from De Beers

Forevermark is excited to launch The Forevermark Tribute™ Collection. The powerful new collection celebrates the many individual characteristics of a woman, with each quality represented by a unique Forevermark diamond.

Forevermark Diamonds are from The De Beers Group of Companies, which has a history of diamond expertise spanning more than 125 years. Forevermark is committed to the unwavering and passionate pursuit of the world's most beautiful diamonds, brought to you with integrity.

In Forevermark's constant pursuit of absolute beauty, Forevermark diamonds undergo a journey of rigorous selection. Forevermark goes beyond the 4Cs in search of only those diamonds that meet its strict standards for quality and beauty.

Forevermark diamonds are also responsibly sourced. They come from mines that not only comply with strict political, financial, social and environmental requirements, but also benefit the communities in which they are operating. This ensures that all Forevermark diamond rings and other fine jewelry can be given or worn with pride.

Forevermark Diamonds for Your Special Moments

Less than 1% of the world's diamonds are worthy of the Forevermark inscription — the symbol of the Forevermark promise of beauty, rarity and responsible sourcing. The inscription, which includes the Forevermark icon and a unique identification number, is 1/5000th the width of a human hair. It is invisible to the naked eye and can only be seen under 50 times magnification. The inscription not only represents the Forevermark promise, but also allows you to register your diamond in your name.

With its promise of beauty, rarity, responsible sourcing, and the unique inscription as a symbol of that promise, a Forevermark diamond is the ultimate expression of the emotions and moments that you wish to cherish forever.

We invite you to browse our Forevermark collection on the website or visit us to see our collection of radiant Forevermark rings, loose diamonds and other fine jewelry. We have three locations in San Francisco and a store in beautiful St. Helena.

Padis Jewelry, a family-owned business, has been a trusted source for buying exquisite engagement rings, fine jewelry and certified loose diamonds since 1974. We have one of the area's largest inventories as well as an impressive selection of top name luxury brands, including beautiful, rare and responsibly sourced Forevermark diamonds.
Do you have questions about Forevermark Tribute Diamond Ring?
Please send us a message and our staff will be happy to help you with whatever questions you may have.