Forevermark Tribute Diamond Ring
$1,395.00
In Stock | STYLE: 001-387-00017
Ships Tomorrow (cutoff time was 4:00 pm PST)
18K Yellow Gold Forevermark Fashion Diamond Ring, with 0.24 Ct., G Color, SI1 Clarity Diamond, Forevermark Certificate #9803709.*Prices are subject to change based on fluctuations in metal prices and currencies
General Details:
Ships Tomorrow (cutoff time was 4:00 pm PST)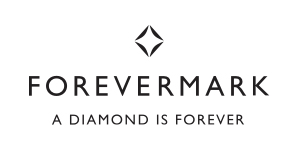 Forevermark Diamonds
Forevermark Diamonds from De Beers

Forevermark is excited to launch The Forevermark Tribute™ Collection. The powerful new collection celebrates the many individual characteristics of a woman, with each quality represented by a unique Forevermark diamond.

Forevermark Diamonds are from The De Beers Group of Companies, which has a history of diamond expertise spanning more than 125 years. Forevermark is committed to the unwavering and passionate pursuit of the world's most beautiful diamonds, brought to you with integrity.

In Forevermark's constant pursuit of absolute beauty, Forevermark diamonds undergo a journey of rigorous selection. Forevermark goes beyond the 4Cs in search of only those diamonds that meet its strict standards for quality and beauty.

Forevermark diamonds are also responsibly sourced. They come from mines that not only comply with strict political, financial, social and environmental requirements, but also benefit the communities in which they are operating. This ensures that all Forevermark diamond rings and other fine jewelry can be given or worn with pride.

Forevermark Diamonds for Your Special Moments

Less than 1% of the world's diamonds are worthy of the Forevermark inscription — the symbol of the Forevermark promise of beauty, rarity and responsible sourcing. The inscription, which includes the Forevermark icon and a unique identification number, is 1/5000th the width of a human hair. It is invisible to the naked eye and can only be seen under 50 times magnification. The inscription not only represents the Forevermark promise, but also allows you to register your diamond in your name.

With its promise of beauty, rarity, responsible sourcing, and the unique inscription as a symbol of that promise, a Forevermark diamond is the ultimate expression of the emotions and moments that you wish to cherish forever.

FREQUENTLY ASKED QUESTIONS ABOUT FOREVERMARK DIAMONDS
Q: Why are there websites that try to undermine the value and promise of Forevermark diamonds?

A: Everyone has an agenda. Competition is tough in the diamond industry and everyone is trying to gain the attention of the individual looking for information and guidance on buying a diamond. After all, finding the most beautiful diamond one can to represent the most significant moments in life can be a daunting experience. There are lots of people interested in selling diamonds to the public. One need look no further than the internet to see how much information about, and access to, diamonds there is.

Still, just as some of the information is true and valid online, some is contradictory and confusing, and some is just plain wrong. For those websites and blogs looking to disparage Forevermark, one need only to scroll down into the body of the blog to understand what the agenda of the writer is. Many of them portray themselves as "Diamond Experts" who are only interested in "educating and informing"—to be a "trusted advisor." However, these bloggers and writers often provide advice such as:

"Don't buy from a Brick-and-Mortar jeweler. You are paying extra for the overhead."
"Don't buy a brand. There are no differences and you are paying extra for the marketing."
"Instead, click on one of the websites listed here and you will get a better deal."
The agenda is clearly to encourage the shopper to click from their website or blog to one of the online diamond purveyors such as James Allen, Blue Nile, Enchanted Diamonds, White Flash, and Brian Gavin, et al. In other words, to entice them to buy a diamond online, sight unseen, all based on the basic 4Cs and price. More important to the blogger is that each time a visitor clicks from his or her website to that of an online diamond seller, the blogger receives a click-fee. They get PAID for recommending and sending people to those sites! Even more, in some cases if a person actually purchases a diamond from a referred website, the blogger may even receive a commission on that sale.

What they will not tell a visitor, however, is that two diamonds even with the same basic 4Cs of cut, color, clarity and carat weight are usually very different. No two diamonds are alike. They would rather mislead the visitor into thinking that a diamond is a diamond is a diamond as long as the basic criteria is the same. Nothing could be further from the truth of diamonds. These types of "advisors" are really only interested in one thing—the TRANSACTION—making the sale through an online provider.

By the way, there is no HUGE premium for a Forevermark diamond. The value is there. The problem is that diamonds have become perceived as a commodity and plentiful when there is no comparison other than the basic 4Cs and/or price. The internet provides no eye test for determining the beauty and brilliance of a diamond. A diamond needs to be seen live and in person in order to experience its unique characteristics and beauty. But that isn't what the online writer and blogger want the customer to experience. Keep that in mind when you have a customer tell you they found the "same diamond" cheaper online. There is a reason those diamonds are being sold online.

Q: What is the best way to explain the relationship between De Beers and Forevermark?

A: De Beers was founded in 1888 and is one of the world's leading diamond companies, with unrivaled expertise in exploration, mining and marketing of diamonds. Forevermark is part of the De Beers Group of Companies, benefiting from over 125 years of diamond expertise. Forevermark diamonds are included in De Beers' top run-of-mine, which starts them on the journey of becoming the world's most carefully selected diamonds. Forevermark is a defined set of standards, set forth and adhered to by the De Beers Group Of Companies. These standards are upheld and reflected in Forevermark's promise of integrity, ethics, principles, commitment to quality, commitment to excellence, and commitment to community. Forevermark is the channel through which De Beers is able to present and demonstrate its commitment to values, integrity, and quality. Each Forevermark diamond comes with a promise that it is beautiful, rare and responsibly sourced so consumers can feel proud to own and wear it forever.

Q: How do you support the claim that a Forevermark diamond is beautiful?

A: Forevermark has authorized the world's most experienced cutters and polishers to unleash the beauty of our diamonds. Forevermark goes beyond the 4Cs in combining art with science to ensure both the aesthetic and technical attributes of each diamond are fully evaluated, have met our criteria, and passed our rigorous evaluation process before receiving the Forevermark inscription. Forevermark actually SELECTS the diamonds to be inscribed and REJECTS those not meeting all the criteria, with beauty being a key factor. The end result is that Forevermark diamonds are the world's most carefully selected diamonds, striking in their beauty.

Q: What makes a Forevermark diamond rare?

A: Less than 1% of the world's diamonds qualify to be Forevermark. Forevermark diamonds come from De Beers' top run-of-mine which means only the best rough crystals, selected for their fine qualities, will be crafted by the world's leading diamantaires. The experts at the Forevermark Diamond Institute (FDI) carefully select and will inscribe only the diamonds that meet Forevermark standards and reject the ones that fall short, approximately 10%.

Q: Forevermark diamonds are not that rare. They allow diamonds D-L colors and FL-SI2 clarities.

A: Forevermark diamonds represent far less than 1% of the diamonds. Yes, the color range and clarity range are not D-F and FL-VVS2. But each Forevermark is rare to the point that it is the most beautiful diamond in its class. Crystal structure, transparency, and beauty (not mentioned on the Forevermark Diamond Institute [FDI] report, yet key pillars of the Forevermark selection process) are three parameters that exclude a lot of diamonds that were initially classified as being eligible for Forevermark status. Ultimately, if the diamond was not beautiful, it would be rejected by the FDI.
Q: Why would a consumer feel proud to own and wear a Forevermark diamond?

A: Forevermark diamonds only come from sources that are committed to high business, social and environmental standards and benefit the people and communities from which they originate. The Forevermark promise means that every diamond is a genuine, natural, and untreated diamond whose quality, beauty and integrity have been protected at every step in its journey. Forevermark diamonds benefit the natural world and every hand through which it has passed throughout its journey.

For every acre mined, the De Beers Group and Forevermark set aside five acres for conservation and preservation. In fact, the company owns and operates hundreds of thousands of acres of wildlife preserves which are managed to protect and restore nature's beauty and wildlife. For instance, protecting elephants and rhinos from poaching has been a core mission of the De Beers Group for decades and continues to be a key factor in the survival and thriving of these species.

Forevermark and the De Beers Group celebrate and promote the role and lives of women in our producing countries, providing education, healthcare, jobs, and other entrepreneurial opportunities which help the progression and vitality of societies. In fact, in our partner diamantaire diamond cutting facilities surrounding our sorting and sales office in Gabarone, Botswana, 74% of the employees are women.

Q: The Forevermark promise that each diamond is beautiful, rare and responsibly sourced could make the other diamonds in my store seem less adequate. Don't all diamonds go through the Kimberley Process? How do I defend that if asked by a customer?

A: The reason your company and Forevermark are partners is because your principles, ethics and commitment to the community align with our standards and ours align with yours. The brands and products that are represented in your store were carefully selected to reflect your brand appropriately. The other diamonds in your store are in compliance with the Kimberley Process, which has been established to ensure diamonds are coming into the market through proper channels and from Kimberley Process sanctioned countries. The oversight of the Kimberley Process is limited to rough, unfinished diamonds. Forevermark and the De Beers Group's Best Practice Principles (BPP) go above and beyond the Kimberley Process, to ensure that its partner companies are compliant with ethical practices throughout the pipeline, beginning with the mine and following through to the jewelers' showcases. Furthermore, Forevermark diamonds are fully documented and monitored throughout every step of their journey to ensure proper handling and movement of finished, polished diamonds, making it easier for you to convey your company's commitment to high standards.

Q: GIA is an independent, trusted grading lab. Forevermark grades their own diamonds. Doesn't that make GIA a more reliable source for grading?

A: Over more than 125 years, nobody has mined, seen, handled, studied, evaluated, sorted, graded, or sold more diamonds in the history of the world than the De Beers Group of Companies. We are the experts. Through these many decades, our teams of scientists, engineers, and PhDs have developed more tools and technology than all other companies combined in the diamond industry, many of which are available to and employed by the leading and most respected companies and labs around the globe.
The industry standard and commonly used 4Cs that every grading lab uses was a system used by the De Beers Group to sort and evaluate rough diamonds based on their weight, shape, color and clarity, designed to categorize and value rough diamonds in order to present parcels to sell to diamond cutters and polishers. Eventually, those criteria were translated into the 4Cs we know today for classifying finished, polished diamonds.

Other labs are in the business of grading diamonds and will provide a report for a fee regardless of its integrity, rarity, quality and beauty. They reject no diamonds that are sent to them under any circumstances, as long as the grading fee is paid. Forevermark goes Beyond the 4Cs in evaluating diamonds. Remember that the De Beers Group makes its sale of the diamonds at the rough stage to sightholders. Authorized Forevermark Diamantaires (sightholders) are sold a bit larger share of better quality rough which they can then cut and polish to meet Forevermark's standards for beauty, polish, symmetry, etc.

Once they feel they have done so, they submit those diamonds to the Forevermark Diamond Institute (FDI) for evaluation. There, the diamonds undergo a series of tests, analysis, and grading to ensure they meet all of the criteria. On average, 10% of the diamonds submitted are rejected because something is not compliant with our strict parameters. This means that those diamonds do not receive a grading report, nor are they inscribed with the Forevermark inscription. They are returned to their owner, the Diamantaire, who will then sell those diamonds on the open market just as they would any other diamond. Those diamonds worthy of the inscription are fully graded, inscribed, and returned to the Diamantaire (the owner) as Forevermark and can only be sold to Authorized Forevermark Jewelers.

The Forevermark inscription is like a "seal of approval" that signifies the diamond has met all of the criteria and that the diamond is worthy of Forevermark. Further, each time Forevermark inscribes a diamond, our reputation is on the line, so we must not only be accurate, but consistent. The Forevermark Diamond Institute has no financial stake or interest in grading a diamond higher than it actually is. We absolutely must uphold the integrity of the Forevermark brand promise, because if we don't, our entire foundation will be shaken, as jeweler and consumer confidence in our ability to deliver beauty, integrity, accuracy and consistency in each and every Forevermark diamond is
at the core of that promise. It is our promise that the diamond is what we say it is and that it has met all
the requirements of ethical and beneficial handling along its journey, strict standards, consistent quality, and beauty. The Forevermark Diamond Institute highly protects our standards through a rigorous evaluation and selection process, inscribing only those diamonds that pass and rejecting the ones that fall short.

Q: How is the Forevermark inscription different from a number lasered on the girdle of a diamond?

A: The Forevermark inscription is proprietary technology, invisible to the unaided eye, which signifies the diamond has met all the strict criteria of Forevermark. Remember, the FDI rejects diamonds that are not up to standard. It is our promise that the diamond is what we say it is and has met all the requirements. In this way, it is different from a number lasered onto a girdle, which anybody can do. A number on a girdle simply identifies that diamond as relating to a grading report. It is not a promise of beauty, integrity, rarity, origin, or of being natural and untreated. In addition, the Forevermark inscription cannot be duplicated by anyone else, nor can it be altered, thereby insuring integrity. Conversely, a number lasered on a girdle can be altered or changed, which can then lead to unethical representation by artificially linking it to another grading report. A laser
identification can also be easily removed without impacting the characteristics or performance of the diamond. However, removing or polishing off the Forevermark inscription from the table can and usually will impact the diamond's characteristics and therefore may impact its beauty, performance, and carat weight.

Finally, the Forevermark inscription is our icon and a unique number that you should register in your name on Register My Diamond, which provides peace of mind that the diamond is yours.

Q: The Forevermark Grading Report is so basic.

A: When buying a diamond you are not buying a piece of paper. Grading reports are documents indicating the characteristics of a diamond based on four criteria. They are similar to the blueprints of a house. Some people critiquing Forevermark are looking at the FDI grading report and making their comments from this one source of information. It provides the same basic information that a GIA and other reports give, but the Forevermark report stands for much more than other industry reports. The Forevermark diamond has passed the test for beauty, which is not reflected in any grading report. We recommend never looking at any grading report and making assumptions about beauty or value. Diamonds must be viewed in person.

Q: If Forevermark diamonds are natural and untreated, why is there a disclaimer on your grading report?

A: Pipeline integrity, a commitment to ethics and adherence to strong business, social and environment standards, are essential to upholding the Forevermark Promise. As such, each step of a Forevermark diamond's journey is documented and can be verified by an independent third party auditing group called Société Générale de Surveillance (SGS). Yet, once a Forevermark diamond is sold by an authorized Forevermark Jeweler it cannot be monitored so our disclaimer protects us
from the potential of unethical actions after it leaves our authorized pipeline of care.

Q: Who are the independent third party auditors and who is audited?

Société Générale de Surveillance (SGS) is the world's leading auditing company of pipeline process and integrity. All Forevermark Diamantaires and Manufacturers are audited annually, at a minimum. For traceability, each diamond must be documented and signed at each stage of the process. Any diamond that does not meet this standard will be rejected and deemed ineligible to receive the Forevermark inscription, which represents our promise that the diamond has met our standards.

Q: If Forevermark tracks the journey of all their diamonds "from mine to finger," why isn't the provenance disclosed?

A: Forevermark diamonds originate from mines in which we have been able to establish a pipeline of integrity, mainly in Botswana, Namibia, South Africa and Canada. Once the rough diamonds have been mined they are sent to our sorting facility in Gabarone, Botswana to be separated based on quality, size, and potential yield. Ultimately, the rough is aggregated into boxes to be sold to authorized diamantaires, making it difficult to identify the specific mine from which each diamond
originated. Also, since the countries where our diamonds are mined are dependent on the diamond trade for their social and economic viability, we have a responsibility to represent all mining countries equally and would not want to create an environment in which only diamonds from a particular mine are desired.

Q: What is the benefit for my customer to "Register My Diamond" on the Forevermark website?

A: Registering a Forevermark diamond through www.forevermark.com documents the title of ownership of the diamond, which can be passed down throughout generations. Digital copies of the diamond's identification card and official documents are also stored in one safe place forever, so if the diamond were recovered after being lost it could be traced to the rightful owner.
Do you have questions about Forevermark Tribute Diamond Ring?
Please send us a message and our staff will be happy to help you with whatever questions you may have.